'The Proud Family,' 'She-Hulk': WATCH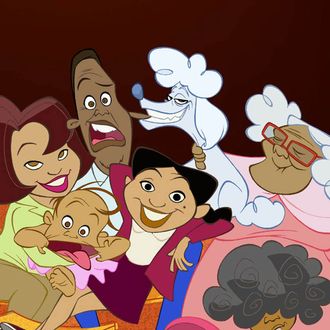 It's Disney+ Day and the streaming platform is throwing a birthday party by debuting brand-new content. The streaming platform is bringing back The Proud Family 20 years later, and this time they're Louder and Prouder than ever. The new series will feature guest voice-overs from stars such as Lizzo, Lil Nas X, Tiffany Haddish, and Cedric the Entertainer. You'll get the chance to see Oscar Proud's head shoot off into fireworks and Suga Mama as a swol grandma Hulk. Speaking of, Marvel has unveiled never-before-seen footage of She-Hulk; Moon Knight, starring Oscar Isaac; and Ms. Marvel. It also officially announced Agatha: House of Harkness, a WandaVision spinoff; Ironheart; Secret Invasion, starring Samuel L. Jackson as Nick Fury; and a whole roster of Marvel Studios animated series, including season two of What If …? and X-Men '97, which will continue the story by the original creators and voices.
Disney+ is premiering dozens more stories from across its iconic brands. There are spinoffs such as Baymax! and Olaf Presents from classic Disney animations. More than a decade after Giselle arrived in New York, the place of "no happy ever afters," Disney has made the appropriate sequel: Disenchanted, set to be released in the fall of 2022. Gabrielle Union and Zach Braff are also set for a 2022 Cheaper by the Dozen film, written by Kenya Barris. Chris Hemsworth and Will Smith traverse the planet in their respective series for National Geographic. And Hayden Christensen and Ewan McGregor return for Star Wars' Obi-Wan Kenobi series. New users can get a discounted Disney+ subscription for $1.99 until November 14. Have yourself a merry Disney+ Day (Taylor's Version), and find the day's first looks below.
Disney is bringing back the classic animated sitcom for a round two. You can follow Penny Proud and her antics on The Proud Family: Louder and Prouder, streaming in February.
Big Hero 6 is getting another spinoff with Baymax!, in which the adorable but somewhat useless marshmallow attempts to be of service to humankind. Baymax! is streaming on Disney+ next summer.
In a spinoff of The Princess and the Frog, Tiana is getting her own longform musical series. The show follows her adventures as the new Princess of Maldonia, and it's set to be released in 2023.
You've watched the Ice Age squirrel chase an acorn around the world, and now it's time for the possum to get a little love. Ice Age: Adventures of Buck Wild is streaming on January 28, starring Simon Pegg as Buck and Seann William Scott as Crash.
Jennifer Walters (Tatiana Maslany) is just a normal lawyer who does morning yoga, except when she's hooked up to a helmet of wires and Mark Ruffalo is telling her that "these transformations are triggered by anger and fear." She-Hulk is slated to debut in 2022.
New content under Marvel also includes Moon Knight, whose protagonist can't tell the difference between his waking life and dreams. In an unreleased clip, the Moon Knight punches something in a dilapidated bathroom as the lights and a scary voice says, "The voice in your head — it devours you." It is coming to Disney+ in 2022.
Finally, there's Kamala Khan, a.k.a. Ms. Marvel (Iman Vellani), a Pakistani American from Jersey City who is just trying to save the world. Her starter-suit headpiece looks like the crown of a chicken, but rest assured Marvel will give her 'fit an upgrade. Ms. Marvel is scheduled to premiere in the third quarter of 2022.
If you want to watch Chris Hemsworth dangling on a rope a thousand feet off the ground, Limitless With Chris Hemsworth is the show for you. It is streaming in 2022.
Looking for another Hollywood guy in the outdoors? National Geographic is serving up Welcome to Earth, starring Will Smith. You can watch the fresh prince of Bel-Air navigate a canoe starting on December 8.
America the Beautiful is all the pretty Apple screen savers made into a TV show. The series will begin streaming in 2022.
The Star Wars character that gets virtually no screen time is getting a documentary special entirely dedicated to him. Under the Helmet: The Legacy of Boba Fett is now streaming on Disney+ ahead of the new spinoff The Book of Boba Fett.
The Beatles: Get Back is made entirely from never-before-seen restored footage of John, Paul, George, and Ringo. The docuseries is getting a three-day rollout on November 25, 26, and 27.
Source link